EST. 2020


EPISODE 12
L'EAU
Romane Bourgeois

2/9 - 14/10
2023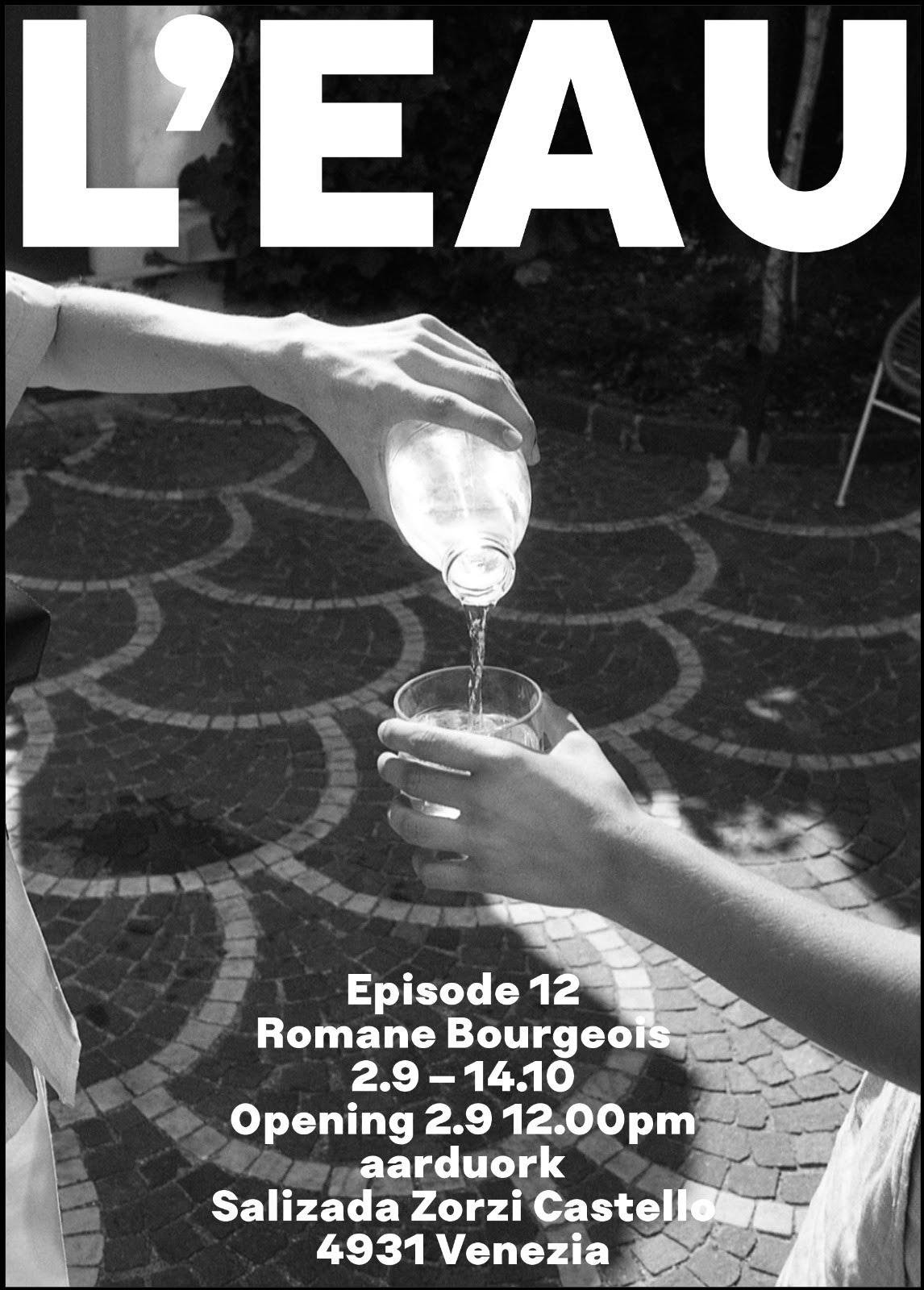 Open by appointment 24H in advance info[[(at)]]aarduork.com

Salizada Zorzi,
Castello 4931, Venezia

ITA

L'EAU

L'eau è onnipresente, o meglio, omni-necessaria. Si tratta di un corpo omogeneo evaporato e disperso che ci attraversa e in cui continuiamo ad immergerci con il sudore, la sete, il sangue, la pioggia, la neve, le nuvole. Si tratta di un elemento ricorrente per tutti e che le immagini di Romane Bourgeois raccontano trasformandolo in un fluido d'intimità tra persone, oggetti, presenze e ricordi. Attraverso lo scorrere delle immagini selezionate attraversiamo un liquido che amplifica la reminiscenza degli incontri e della vita vissuta sempre in movimento costante.

Romane Bourgeois

Romane Bourgeois è un'artista italo-francese che vive viaggiando. Fotografa tutto ciò che incontra, raccoglie e attraversa. Attualmente vive e lavora tra Bassano del Grappa, Atene, Passenans. Di lei dice: "Non ho molto da dirti, forse più da mostrarti. Non ho particolarmente voglia di raccontarti da dove me ne esco, che cosa faccio e perché lo faccio. Devi solo sapere che quello che faccio, non lo faccio solo per me. Lo faccio soprattutto per te. Ti invito a passare un momento con quello che ho visto, sperando non ti lasci indifferente. O forse sì e va bene così."


---

ENG


L'EAU

L'Eau is omnipresent, or rather, omni-necessary. It is a homogeneous evaporated and dispersed body that passes through us and in which we continue to immerse ourselves with sweat, thirst, blood, rain, snow, clouds. This is a recurring element for everyone and which Romane Bourgeois' images recount by transforming it into a fluid of intimacy between people, objects, presences and memories. Through the flow of the selected images we pass through a liquid that amplifies the reminiscence of encounters and life lived in constant movement.

Romane Bourgeois

Romane Bourgeois is an Italian-French artist who lives by travelling. She photographs everything she encounters, collects and crosses. She currently lives and works between Bassano del Grappa, Athens and Passenans. She says of her: 'I do not have much to tell you, perhaps more to show you. I don't particularly want to tell you where I come from, what I do and why I do it. You just have to know that what I do, I don't just do it for me. I do it especially for you. I invite you to spend a moment with what I've seen, hoping it won't leave you indifferent. Or maybe it does and that's OK."



EPISODE 1
EPISODE 2
EPISODE 3
EPISODE 4
EPISODE 5
EPISODE 6
EPISODE 7
EPISODE 8
EPISODE 9
EPISODE 10
EPISODE 11

about
aarduork was born in the storm.

It's an artists' space for b–side practices, undercover artists,
radical procedures and hard works, whatever that means.
It is curated by Mario Ciaramitaro and Alberto Restucci.